Restaurants & Cafés
The best restaurants and cafés in Singapore, including restaurant reviews and editors' picks
Latest restaurant reviews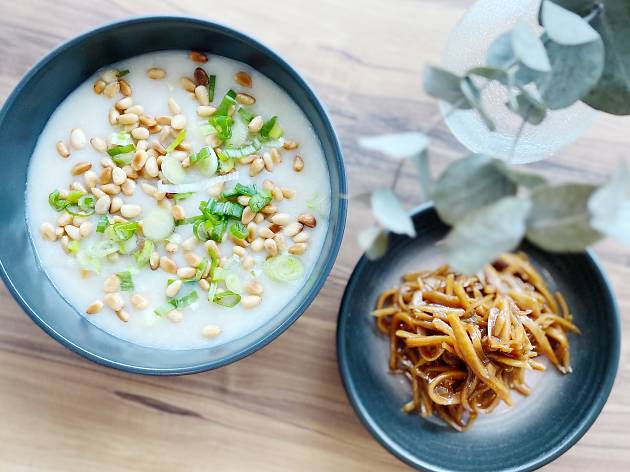 Allium
There's a little?diner with just 16 seats hidden within the quiet Kensington Square. It's so low-key that you might just walk past it without taking a second glance. But that means missing out on Allium, a one-month-old restaurant helmed by chef Dillion Ng, the man behind the now-defunct GastroSmiths and The Humble Loaf. His latest venture is an environmentally conscious one: produce comes from sustainable sources, beef is used minimally, and vegetables are plentiful in the brunch menu. "What would you recommend?" We ask the waitstaff. "Everything," he replies, after taking a moment to consider. He goes on to explain that the adjacent table is occupied by his family. They ordered almost everything on the menu, and their plates have been wiped clean. That sets us up with high expectations when served with the forest mushroom and charred rosemary soup ($14). The base, thinner and runnier than what we're used to, makes up for its lack of creaminess with body and depth. It's a hint that the chef's talent lies in his ability to make simplicity shine. And it's a theory proven when the highlight of the meal arrives. A humble bowl of congee ($18), is often deemed too plain and unsurprising to command a place on a restaurant menu. But here, it's a layered production, naturally sweetened by zucchini and chayote squash, and fortified with umami-rich kelp and vegetable stock. A sprinkling of pine nuts, and the accompanying side of lotus root kinpira, suffused with the nutty aroma of sesa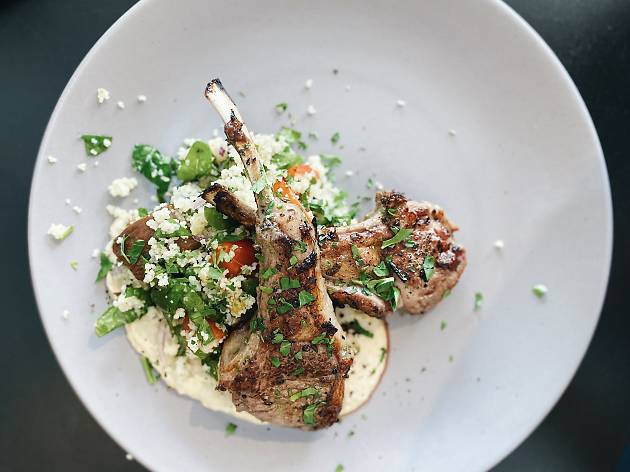 Burn
The smell of smoke will greet you when you first step into Burn. It is, after all, a wood-fired restaurant, with an open kitchen and firebrick oven that exhales smog, the kind that sticks to your clothes, or the kind that hints at the promise of a delicious, toasty meal – depending on how you look at it.? Your attitude might warm up once the food is served. As long as you remember to skip the small plates. The smoky blue crab ($14) was both confusing and cumbersome to consume with the accompanying bread. Sardines and pesto ($14) might be a better choice. Grilled, rather than deep-fried, it's a warm, tender treat – only if you can look past the small bits of bones that protrude in every bite.? The reasons (there are multiple) to stay lie in its hearty mains. Smoky lamb cutlets ($28), having spent some?time in the oven, have removed all trace of gaminess. Its fatty richness soothed by the cool crunch of the couscous cucumber salad and avocado salsa.? The oven's transformative power extends beyond the usual proteins of?ribeye and tuna as well.?Even non-vegetarians will love the grilled pumpkin and feta ($20)?and all its?tender sweetness. Its paired with roasted zucchini, blistered Padron peppers, and served with creamy burrata to lend a cooling welcome to the dish.?? Other flame-kissed toppings can also be found in grain bowls (from $18), between slices of rye or cagel, a?special bagel-ciabatta hybrid (from $17), and, our favourite, in modern brunch dishes like the roasted pork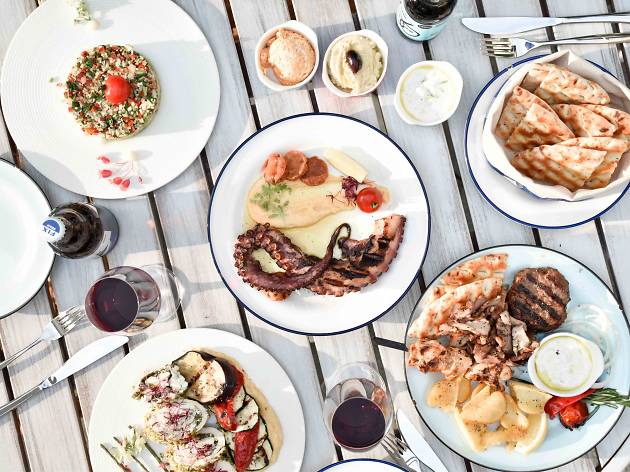 Zorba
Transport yourself to the coastal Santorini islands with Zorba's riverfront locale and azure blue-white decor. Settle in with a glass of Mythos ($12), a famous lager from Greece, and peruse the menu rooted in traditional Hellenic cuisine. Hot tip: refrain from ordering the platter of dips ($28) – they make their appearance in the mains anyway. Souvlaki of beef striploin ($28) comes with a clean and bright tzatziki to slash through the meat's smoky char. The highly recommended octopus ($30) would have been perfect if it hadn't spent too long on the grill – developing unpleasant blackened bits of bitterness. For a light end to the meal, try the Greek yoghurt ($8) sweetened with honey and garnished with walnuts.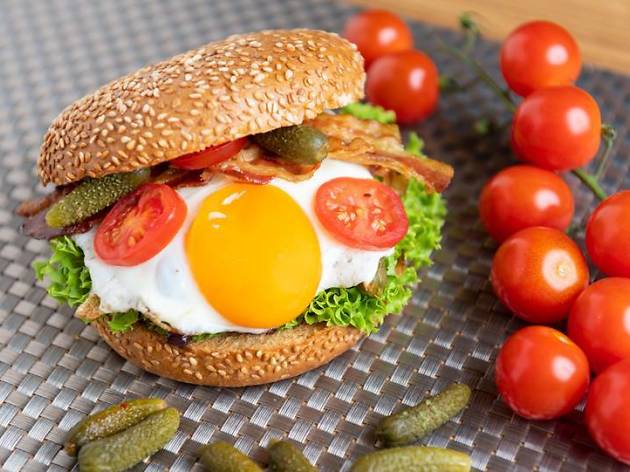 Lombardo's Singapore
You might have heard of?Lombardo's when it first opened in?Amsterdam. Its debut creation – an?opulent, over-the-top $250 burger,?with lobster tail, Wagyu beef,?foie gras and truffle shavings sandwiched between 25 karat?gold-covered buns – caused quite?a buzz. You might also know?Lombardo's as one of?Amsterdam's top burger joints.?It has, over the past nine years,?gained some 2,000 five-star?reviews on TripAdvisor. And?even if you don't, the Singapore?outpost – the brand's first?international franchise – makes?sure you do, with declarations of?its humble achievement painted?on various parts of the wall. It hopes to convince you to part?with $25 for just the burger, and?nothing else. Granted, Lombardo's?buns are larger than most and?almost two-palms-wide. Each fluffy?vessel – buttered and toasty on one?end and sprinkled with sesame?seeds on the other – are a worthy?base to deliver the Black Angus beef?patties into your mouth. Staying safe is your best bet?here. We like the Dutch cheese?burger ($22.50), which forms the?foundation for many of Lombardo's?permutations. The beef patty,?amply seasoned and juicy but?lacking a Maillard-approved crust,?comes layered with complementary,?classic fix-ins: melted English?cheddar, sweet red wine onion?compote, mini pickles, lettuce,?and homemade burger sauce. It's?accessorised to form creations like?the beer-braised pork ($29.50), blue?cheese ($28) – and our favourite,?the greasy goodness of pancetta anda fried egg in the Hangover Burger?
Book online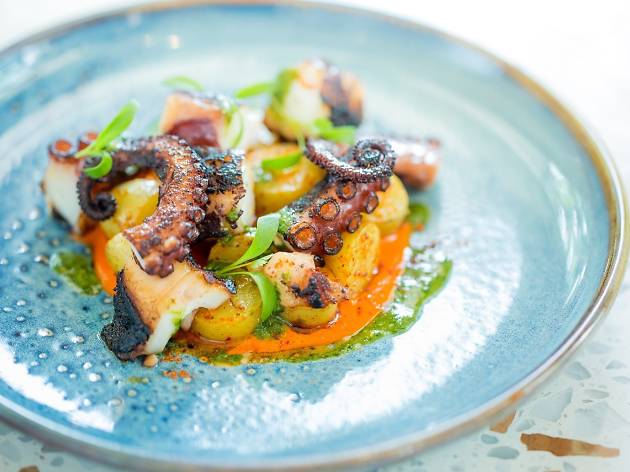 BBR by Alain Ducasse
The doors of?Raffles Hotel's Bar & Billiards Room have welcomed quite a few notable guests over the years. Among the most memorable is a tiger that sought refuge after escaping from a nearby circus. And more than 100 years later, another newsworthy individual is at the restaurant's door: celebrated chef Alain Ducasse.? He is so important that the name of the 122-year-old restaurant is condensed into acronyms to make space for his. It's undoubtedly a big name – one that's responsible for 21 Michelin stars across the world, and one that's fitting enough to take over the expansive 235-seater space. He brings with him a Mediterranean touch – the menu draws from Portugal, Spain, Italy, and France.? Between the spacious interior and tall white columns, getting the attention of the staff from your terrazzo table can be tricky. Thankfully the food doesn't take long to travel from the open kitchen to us. Of the starters, we like the Bunuelos de Bacalao ($15), or salt cod fritters the most. Light, crispy batter gives way to a soft, creamy filling that comes studded with generous chunks of fish.? On the other hand, the signature Pulpo a la Gallega ($28) fails to excite with mushy octopus and no bite. Also, skip the Margherita pizza ($15). Despite its thin crust and vibrant basil flavour, you can get better (and cheaper) renditions elsewhere. Fill up on the complimentary olive bread instead.? Resist finishing all of it and save some for your mains. The Cataplana de Marisco ($60) is a
Buy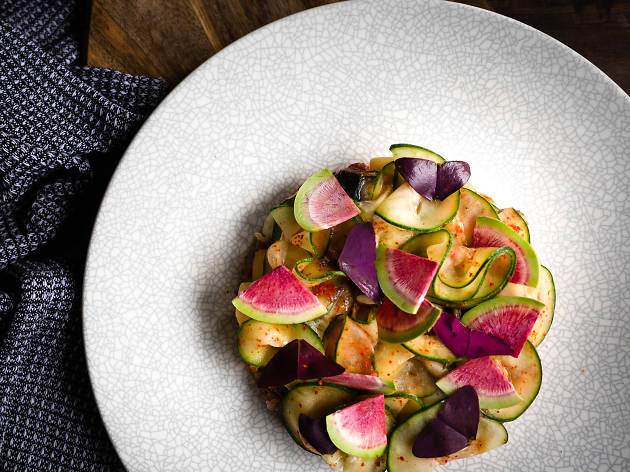 Beurre
Butter plays an essential role in every kitchen – served cold with bread, cooked in a curry, baked in a cake or simply melted down till golden amber, lending a rich, toasted flavour to anything it touches. At Beurre, butter is so important, the restaurant is named after it. Which is surprising, then, that the ingredient doesn't feature as prominently as we'd expect on the menu. For a place that is "driven by a love for butter", the creamy spread is strangely hidden from the spotlight. We struggle to understand its relationship with the dairy product. The love is vague – clandestine even. It sneaks onto your plate – in some dishes more obvious than others. The offerings in which butter is the most conspicuous – because it's stated explicitly on the menu – are also the least exciting. The escargot ($18) is easily forgettable, drowned in an overpowering pool of brown butter and truffle mousse. The Wagyu chuck ($28) comes with a similar brown butter truffle mousseline, braised onions, and a lotus chip. While the beef comes perfectly cooked, albeit a little tough, the nutty profile you'd expect from the sauce is once again lost to the pungent truffle. Surprisingly, it is in dishes where butter sneaks in – and is left out of the menu description – that leave the biggest impression. The French omelette ($18) is pillowy soft, and comes studded with crab cooked in a lobster bisque. It is simple, elegant, and flavoured deeply by the crustacean. There is also the pork ($24), served w
Book online
See more restaurant reviews
Best restaurants in Singapore for...